I Meet a Cricket Loom
Several years ago I saw a Cricket loom on a stand in a store. "I'll never do that" I said to Mr. W. "It looks too fussy, too complicated." I sew; sewing is as simple as one wishes — or as uncomplicated. I thought of it as "my craft", and, at least at the time, figured it was enough. All those parallel threads on the loom made me twitchy.
But I am curious. And when I found myself on an opposite coast in difficult circumstances, and in need of a break, I signed up for a day-long class in rigid heddle weaving. I figured that I had nothing to lose, and I planning a day away from the stresses of the trip couldn't hurt.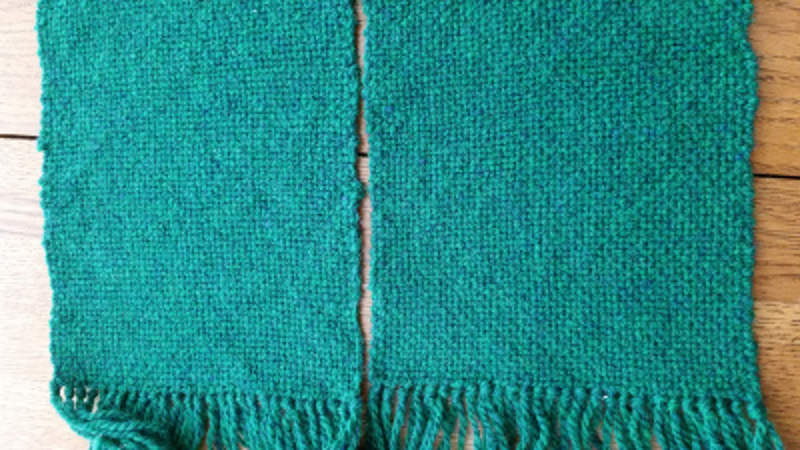 My class scarf. A humble,
but so exciting beginning!
I was incredibly fortunate: I'd signed up for a class with Lou Grantham at San Francisco Fiber, (which, as it happens is actually in Oakland, but there you are*). Lou was the best thing that could have happened to me.
There were only three of us in the class, and Lou set ground rules right away. We would each weave a narrow scarf from start to finish. All questions would be written down and addressed at lunch, without exception. (This was the best thing ever! We were all able to progress without confusion or interruption — and Lou, as promised, addressed every unanswered question at lunch, which we ate outside on a small patio.)
We weighed our cone yarn choices, we warped, we wove, we tied off, we fringed, we bathed our fabric, we spun it outside (in a light sprinkle!), we rolled our scarves, and we went home.
Every time anyone made a mistake, Lou celebrated! And that might have been the best takeaway of all: mistakes let you learn; mistakes reinforce what you need to know. Mistakes are your friend!
Naturally, we got frustrated, and maybe there was sometimes just a slightly bitter edge to our cried of "Hurrah! I made a mistake!" — but I never goof something up now without hearing Lou's voice, and, just as with weaving, hearing that mantra over and over has made me better and better at approaching problems when I weave. (And just maybe in the rest of life too!)
It's true that a good teacher can change your life — Lou changed mine! I eventually flew home (this was in pre-covid times, when the world was very different) and I bought my own Cricket loom, asap.
That was the beginning, and this blog is meant to chronicle what followed. Rigid heddle weaving has turned out to be a big part of my life, and, not incidentally, an excellent tool for maintaining equilibrium in an upside-down world.
*Lou is there, where the there is, in Oakland. Gertrude Stein didn't get it quite right.