A Cricket Loom, Out of the Box
January 18th, 2021
Warning
: Undefined variable $comments in
/home/public/wp-content/themes/inove/single.php
on line
18
Leave a comment
Go to comments
My 15 inch/38 cm Cricket loom came in a compact box, unfinished, and in pieces.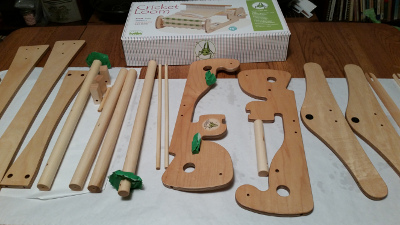 However daunting this appears, assembly was, in fact, pretty straightforward, and the instructions clear.
While waiting for it to arrive, I'd done some research and decided I'd finish it with tung oil.
This is not a choice I made for my next loom, and I wouldn't do it again. Pure Tung oil is probably a far better choice than the "tung oil" which I was able to buy at a nearby woodworking supply center. The one I was able to source had to be mixed with a solvent, which is pretty lethal stuff, and not a choice I'd make now.
Drying took a fair amount of time, and, due to space constraints, I couldn't do all parts of the loom at once. You can see, in the image above, that the darker pieces have been treated. I covered all the non-wood bits with painter's tape; I don't know if that was strictly necessary, but it seemed like a good idea.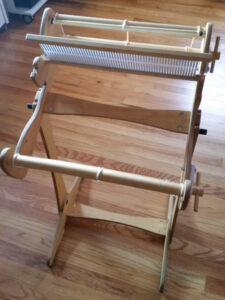 Here's my new Cricket, all assembled, looking very bare, and ready to warp. Although I'm dissing tung oil now, in fact it did give my loom a very nice, hard and durable finish, and I'm very happy with how it has held up.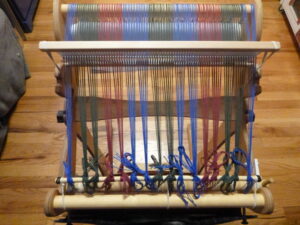 Schacht includes yarn with each kit, so I was able to warp my loom as soon as the finish had cured. (In the name of transparency, I should point out that this may not be that warping job. I think this may be a cotton warp for a later project — but it does give you a good idea of what the warp looked like.)
For various reasons, I don't keep my Cricket right where I use it, and I don't have a designated space for weaving, so I soon realized that I needed an accessory, which I'll describe in the next post.