It Was a Vest
January 29th, 2021
Warning
: Undefined variable $comments in
/home/public/wp-content/themes/inove/single.php
on line
18
Leave a comment
Go to comments
This is a rather fun garment which lends itself to all kinds of yarns — and can be woven on a 10 inch/25 cm loom. I wove it on my Cricket, which is wider, but (more or less) kept the dimensions of the Schacht pattern, which is called, amusingly, but not succinctly, It Was A Vest at Times It was a Wrap at Times. (Whew!)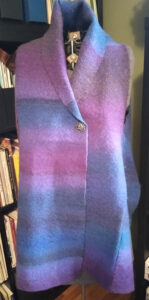 I wove with an 8 dent reed, using a 100% wool Turkish yarn called Poems from Wisdom Poems Yarns, in colorway Arles 601 for the weft — and my well-loved Harrisville Highland in Iris for the warp. I'm not sure I love the way the variegation of the Poems worked in this case, but, no matter, the colors are wonderful.
The project requires two pieces, each of which I wove separately, and each of which came off the loom at 84 inches/213 cm by 9.75 inches/25 cm. (This suggests I missed a slot, so I need to watch that in future.) This was one of the first garments I wove, and to keep things simple — and because I didn't have a fringe twister at the time — I simply hemmed the ends. The wrap loses a lot of its panache as a result, but it's still fun and practical to wear.
The secret to creating a garment from these pieces is in the construction, which involves joining the fabric, and leaving two strategic openings, allowing it to be worn as a vest, as above, using the openings as armholes
. . . as a kind of a slim poncho-like top, slipping the neck into one of the openings  (I'm not too fond of this view, especially since there's a long tail behind. It's super boxy and kind of meh to my eyes.)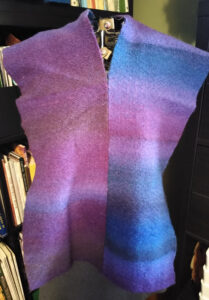 Or it can be worn as a simple wrap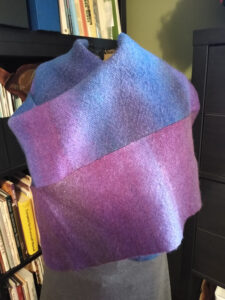 . . . or as a double-thick scarf (by simply folding the whole garment in half).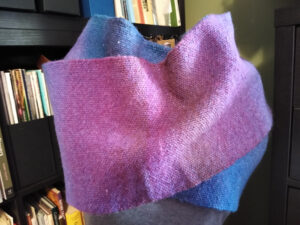 In truth, for most of these views, you'd probably get better results with a lighter, drapier fabric, like the one in the Schacht sample. I'm probably too fond of hunky wools for my own good.
Regardless, this is a project any beginning weaver can make — and can grow with! It would be lovely in a true luxury yarn — not unlike those used by Schacht in their version, for example.
As a side note, the vest above is closed with a magnetic ornament, which looks (and acts) like a button, but doesn't require a buttonhole). Originally, I'd planned to close the vest with the fixture below, which I fell in love with and have never worn.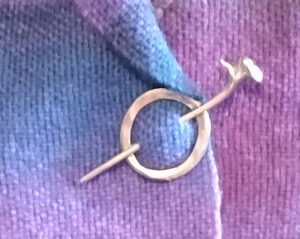 Then I attached it, and realized I'd probably be dead if I bumped into anything. That dagger would slip perfectly between my ribs. Hmmm . . . possibly there's a murder plot there? Any writers in the crowd?