Wide Rigid Heddle Loom Blanket 1
The first project on my 32 inch/81 cm Kromski rigid heddle loom was a cat blanket. This was a no-risk proposition, since the end result was doomed to destruction, eventually. Cats love wool, but ours all have claws, and claws inevitably catch on fabric.
Bearing these facts in mind, I warped the loom with a poor quality (and likely vintage) natural cotton. I was not surprised that it had joins all over the place — something that responsible yarn makers don't allow any more! In testing the joins, though, I discovered that, though bulky, they were tight, hence perfectly fine for this sort of warp.
Perhaps daringly, I warped across the entire loom for my first project. I'd been warned that wielding 30 inch shuttles (the weaving width of the Kromski Forte Harp) could be daunting, but I decided I wanted to know just how much so before I wove smaller projects.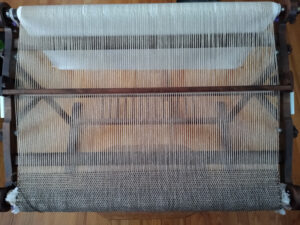 Much to my surprise, I adore weaving the full width — moving the shuttles feels strangely like dancing, possibly because I found myself hold my arms in ballet's second position while I wove. Such grace!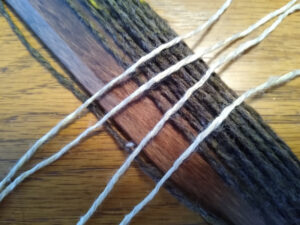 In retrospect, using a pale warp was brilliant, as my shuttles are dark wood. This allowed any pick-up error to be immediately evident, and I'd encourage anyone getting to know their loom to do the same: use a dark warp against a light shuttle, or a light warp against a dark shuttle. (Unfortunately, it didn't occur to me to get a picture while weaving.)
For the weft I used Harrisville Highland, which is probably my all-time favorite weaving yarn, in Walnut. This cone yarn is reasonably priced, lovely to handle, and has a very slightly heathery appearance, which, if I remember correctly, is the result of the fiber being dyed before it is spun.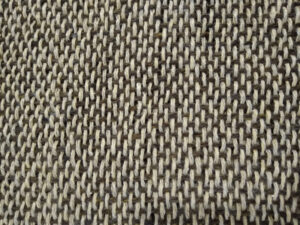 The finished fabric measured 81 inches/206 cm by 30 inches/76 cm, and presented a new challenge: how to handle washing and drying that amount of yardage. I'll address that in my next post.