Cat Blanket in Blue
As I worked on mastering selvedges, I wove a lot of yardage just for practice — not always terribly successfully! This mattered a lot less to me than you might think, since my entire — my only — reason for getting a rigid heddle loom was to decrease anxiety. I wanted something to keep my hands busy and my mind off just about everything. (Times are tough, folks!)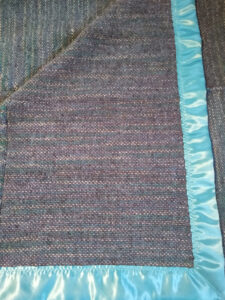 So at one point I ended up with yards of blue, not exquisite, fabric.
In the end, I cut it into four equal sections, sewed them together as invisibly as possible, and bound the edges to make a cat blanket. The traditional satin binding hides all the selvedge horrors, and makes the blanket look a lot more intentional than it actually was.
Cats seem to love wool, and ours — all with claws — adore this one. It's completely covered in largely un-removable fuzz now, and I spend nearly every evening fixing the pulls their joy creates. (Kneading wool is almost as good as simply sleeping on it, it seems.) I suspect the yarn is Universal Yarn Infusion Handpaints superwash 50% wool 50% acrylic, but I can't prove it now.