It was a Vest Version 2
I've written about this pattern before, but this time I've made a version a little closer to the original. This one works much better than the previous one, thanks in part to the softer fabric, which drapes much more nicely than the first version.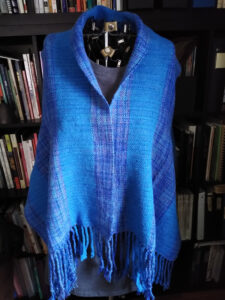 I love that it's a fast, easy and rewarding one for beginning weavers. It's also amusingly versatile to wear, since it makes up into a vest-like wrap, a shawl, and a sort-of-a-poncho.
The pattern is Schacht's "It was a vest . . . ". It's very straightforward, involving just two panels of fabric — and it can be woven on a 10 inch/25 cm loom (although I wove it on my wider Cricket). I complicated matters by using two different yarns, and adding panels to both sides,but that's not needed at all. I was working from stashed yarns, and made virtue of necessity.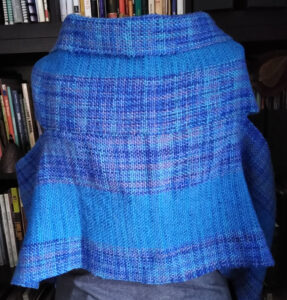 It's quite short in the back, worn as a shawl,
but wears a bit better when actual arms
are involved!

The project requires two pieces, each of which I wove separately, and each of which came off the loom at 63 inches/160 cm by 8.75 inches/22 cm. (This suggests I missed a slot, but no matter.) My warp was a lot shorter than the Schacht pattern requires, again due to stash limitations.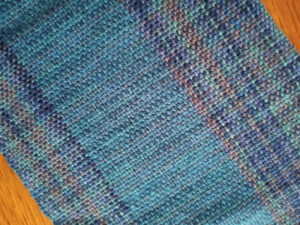 This is the fabric before it was washed,
with a narrower accent on the left, and
the wider band on the right.
The photos in the original pattern suggest how much this project benefits from an interesting yarn or variegation. Since the yarn I had on hand was attractive but not overwhelmingly interesting, I used it as an accent so that my garment wasn't just a block of nice, but meh, plain weave. The center warp is my favorite Harrisville Highland wool in Azure, the side panels and the weft are all variegated Universal Yarn Infusion Handpaints superwash 50% wool 50% acrylic in Blue Riot.
I accidentally sewed the narrower bands at the front; I think this would work a lot better (as planned!) with the wider bands at the front, instead of the sides. But I'm not about to take it apart and switch things around at this point!