Burda 12-2020-127
It looked like a totally impractical top, but why should that be an impediment?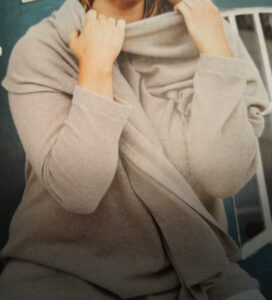 The Burda top, from the December 2020 magazine (12-2020-127) is basically a sweatshirt-like garment with a looooong attached scarf. What's not to like? If there's one thing I can produce, it's looooong fabric!
The basic design is a simple top with a curved seam running across the upper front, into which a shawl-like piece of fabric inserted. I pulled some black sweatshirting from stash, and warped up my Kromski Harp Forte with a variegated black/white/gray yarn.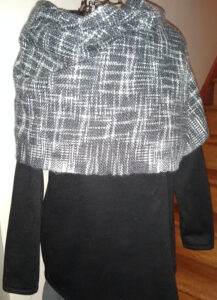 This was the result: A weirdly comfortable, cozy shawl-shirt! I used the yoke seam from the Burda pattern, but I used my favorite tunic block for the rest of the shirt. (This does mean, of course, that this isn't really a review of the actual Burda offering. My top is Burda-inspired.) However, the rectangle for the scarf is woven to the Burda dimensions.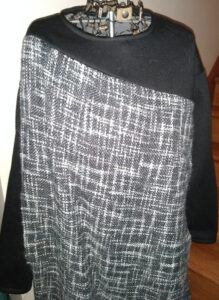 Which was interesting . . . the scarf is almost as long as I am tall! Above, it's inserted in the seam, and drapes all the way to the floor, and beyond. Because it's just a rectangle, this was the easiest weaving project ever; the shaping is all done with the curved seam, and otherwise depends on how the shawl is wrapped.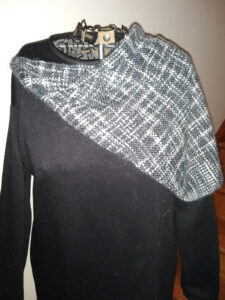 Once it's thrown over the shoulder and all around the top, the length is just fine, though. This shawl was the first piece I wove on my Kromski Harp, and it was a thrill to turn that simple rectangle into this wacky and wearable garment! What's easier than combining a simple rectangle with a really easy-to-sew top? Winner!
However, two lessons noted: my woven piece sheds white, gray and black. All over the black sweatshirting, which attracts fiber as if it were born to felt. These two fabrics were, perhaps, not the most congenial choices.