Variable Dent Reed Scarves
I haven't proven to be much of a natural at getting a good feel for selvedges, so it's been important that I take the path to Carnegie Hall approach to learning. (Practice, practice, practice!)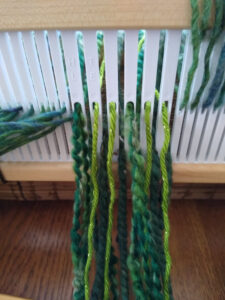 But I like a little variety in my projects, so when I determined that I'd make a batch of mufflers, I decided that I wanted to experiment with texture and differing thicknesses of yarns. I bought a variable reed for my Cricket.
The variable reed allows the weaver to slip in sections which allow thicker and thinner yarns to co-exist in the same warp. You figure out your pattern, organize the reed according to your preferences, and warp as usual — but with more interesting textures!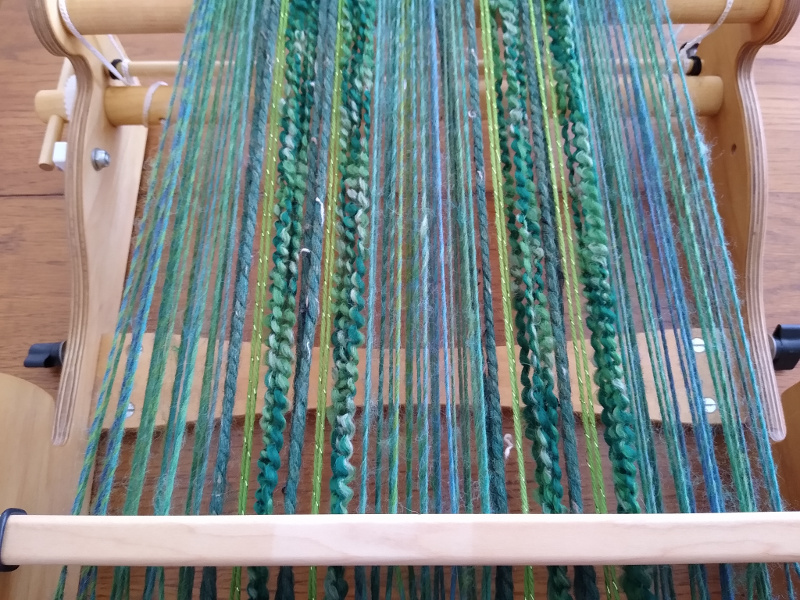 Love, love, love that warp!

For these mufflers, I used four different yarns: a sock yarn, a "glitter" yarn, a fat wide solid color yarn, and a fat wide bouclé. The design was inspired by a scarf I saw at Webs, in Northampton, Massachusetts. The inspiration pattern is Valley Yarns #77, Ginger and Chocolate Scarf.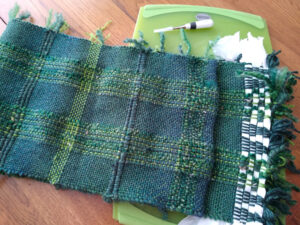 The Valley Yarns scarf is a beauty, but Webs had none of the yarns required in stock, so I made do with what I already had, supplemented with standard supplies (in the Before Times) from local stores.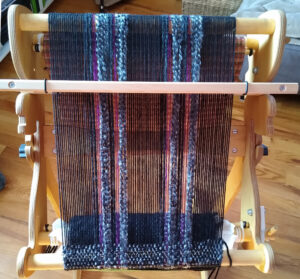 Ohhh, those chunky yarns among the slims!

As a result, I improvised quite a bit, and just worked up patterns that looked reasonable to me, and then I wrote out the weft design in a table that made sense to me. This involved a lot of counting rows and checking off boxes.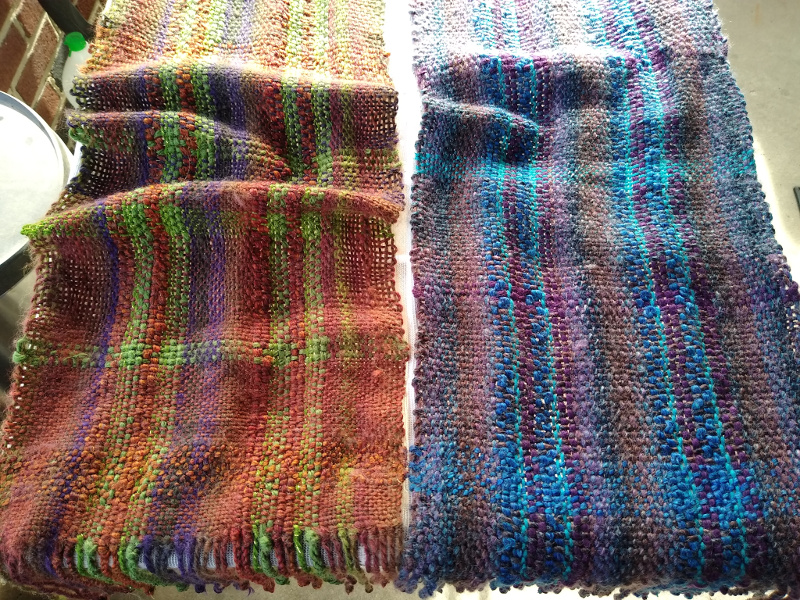 All in all, I made nine scarves, and loved making each and every one! It was amazing how differently each turned out, partly as a result of the different color choices, but also because of those textures.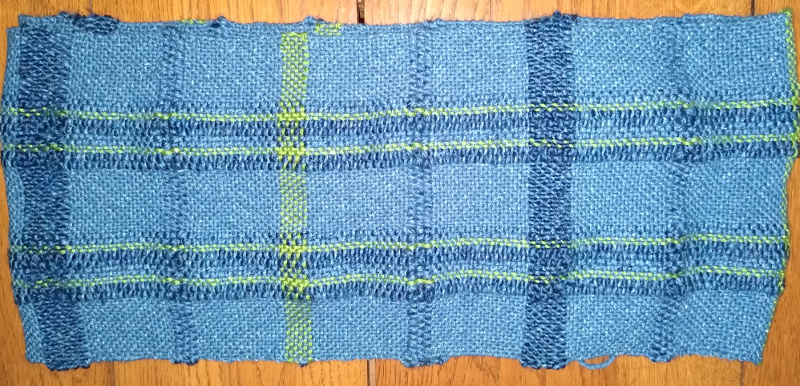 The variable reed is so liberating! There's nothing here but plain weave, but the fabric is anything but . . . I got to practice selvedges and experiment with a lot of different colors as well. And fhandling the different yarn weights kept things interesting.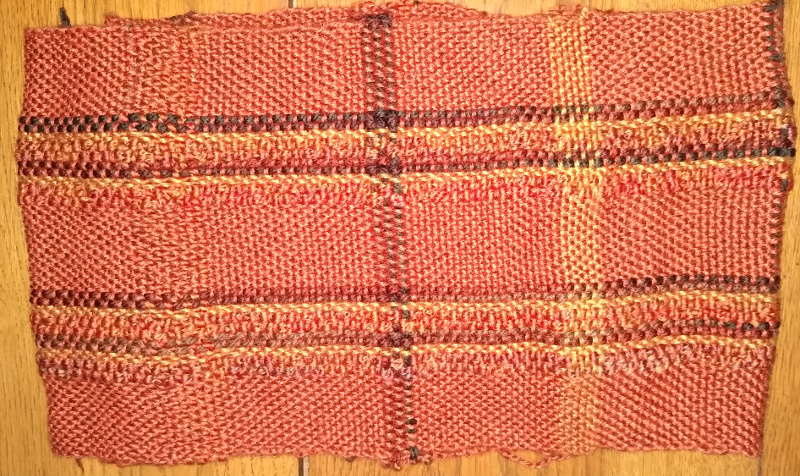 It's not easy (or possible?) to see in these photos, but the "glitter" yarns I used were something I'd never have considered if I hadn't been eager to try four very different yarns. It's Caron Party Yarn — a light yarn with a metal thread run through it.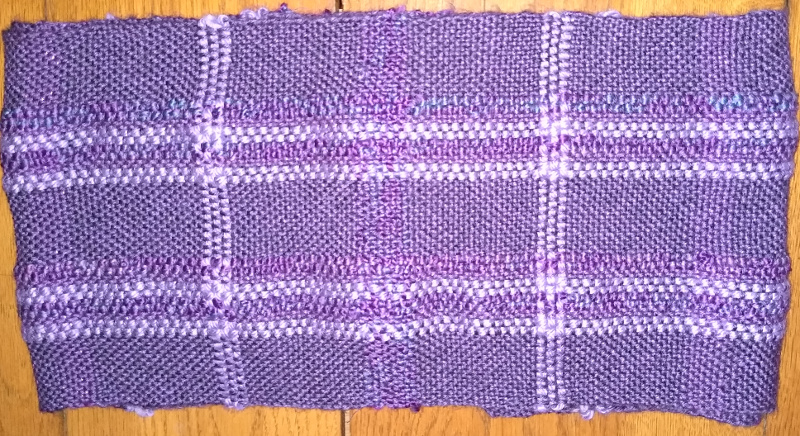 I wouldn't want a whole garment made of it, but it worked surprisingly well as an accent on these scarves.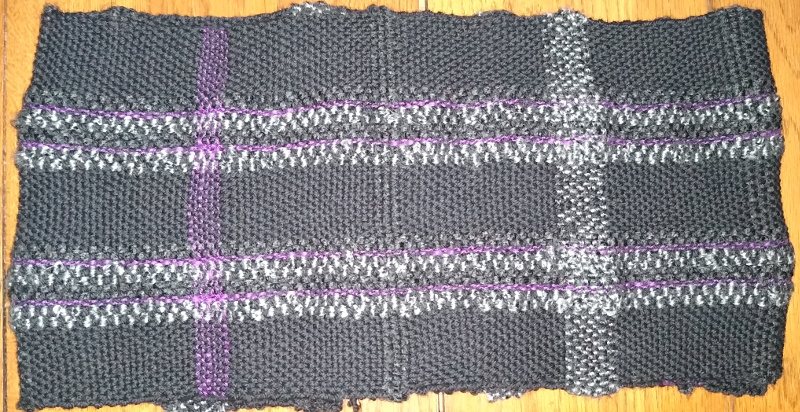 The other yarns were primarily Lion Brand — Homespun, Heartland, and Hometown. These were all acrylics, since they were destined as gifts to people who wouldn't have been thrilled to have to deal with preserving wool.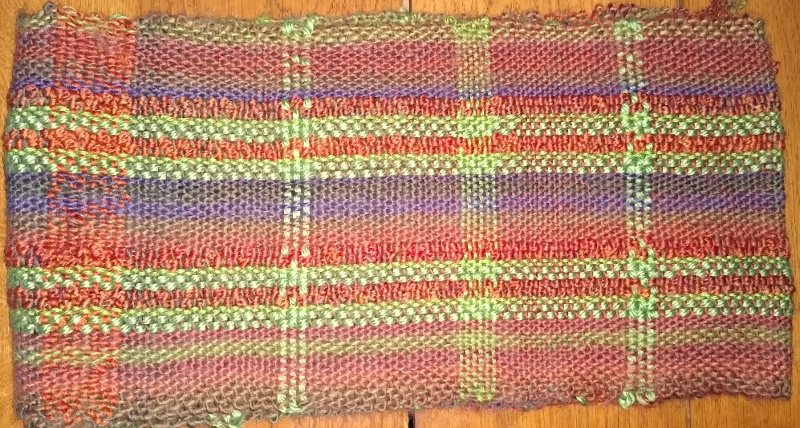 So yet another thrill was how interesting these acrylics could be! Years ago, it wasn't possible to find an interesting yarn in a synthetic, but now aisles are filled with all kinds of faux-wool versions.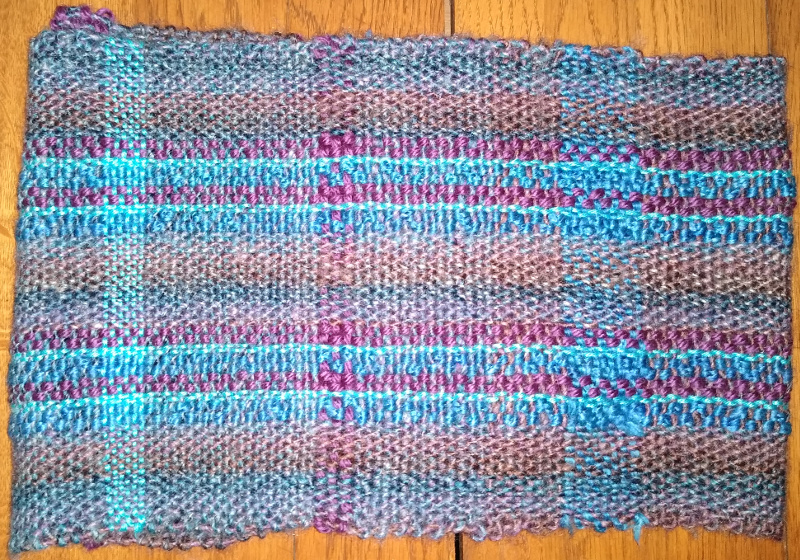 I kept the first one I made — that would be the green one — and did my best to choose colors that I thought would suit the other recipients.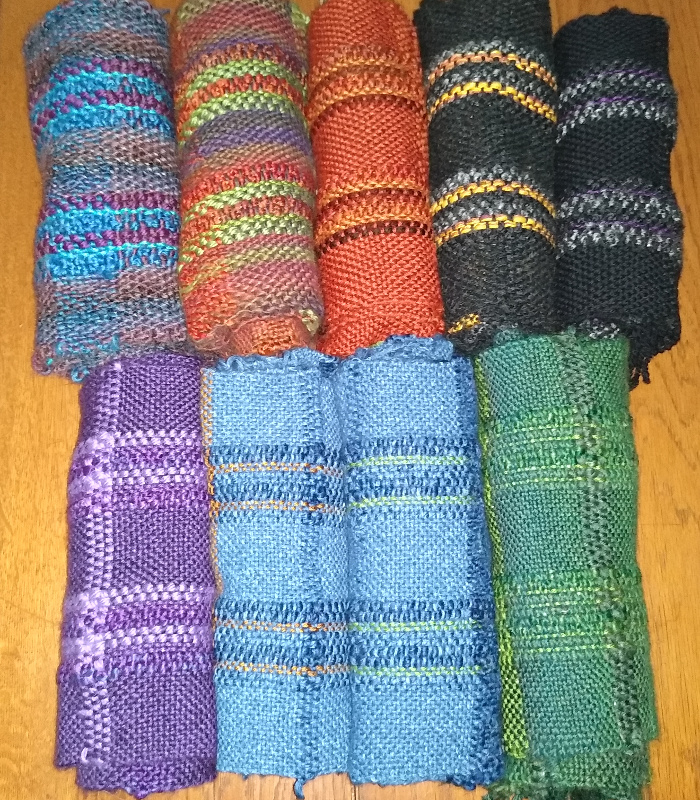 And I got better at selvedges . . . these yarns were definitely more forgiving on the selvedge front than are the cottons. But, you know, there's just nothing like wool for a nice, forgiving edge. I loved this project, but I was happy to move on to the next!