Little Loom Bag
Quite a while ago, I made a bag for a little loom for a dear relative who wanted to play around with weaving.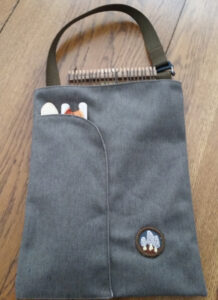 It was quick and easy to make up, and allowed for simple storage for a project that was only going to be picked up occasionally.
The loom is the Minnow small hand held loom in cherry and walnut from Etsy seller Lost Pond Looms. It's a beautiful little loom, and we've been very happy with it.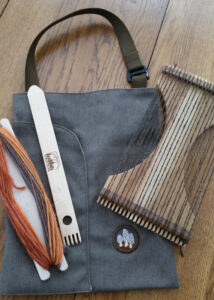 The bag itself is just a simple, lined, rectangle — an easy draft-it-yourself. The handle is coordinating nylon webbing, meant more for hanging than for carrying, though it works fine for both.
The curved pocket isn't just for appearances, but also makes the tools visible and easily removed. The cotton lining keeps them from slipping out accidentally.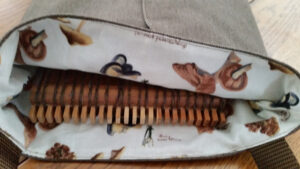 My relative is a mycologist, so the lining is fungi, of course! The combination of a slightly heavier cotton on the outside, and the quilting cotton on the inside give the bag a little structure. That wonderful morel embroidered patch comes from Demerit Wear, purveyors of amusing, and sometimes horrifying, de-merit badges.
I have no affiliation with the businesses mentioned, except as a happy customer. For details, see my Disclaimer page.