Japanese Wrap, Vest and Top
Although this was one of the first few experiments I made in handwoven clothing construction, and it definitely shows its beginner bones, it's one of my favorite projects.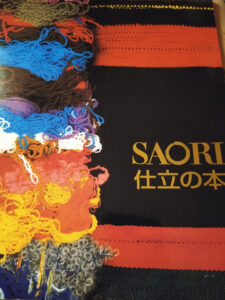 ISBN4-99009761-0
Try Kinokunyia — they ship in
North America!
This is design 12 in the treasure-trove that is SOARI, a volume chock-full of styles created and woven by a women's collective in Japan.
Design 12 is a two-piece garment that can be worn three ways. I wove mine on my Cricket loom, using Harrisville Highland for the warp, and Lion brand Scarfie yarn for the weft.
One piece is a vest, with an asymmetrical overlap in front and a funnel neck. It's basically rectangular, with a shaped high collar.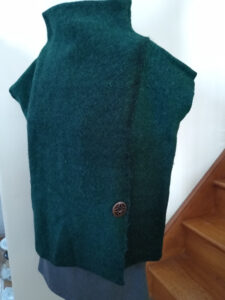 The second piece is a long rectangle, joined under the arms, drawn up at the wrist by decorative buttons. It's a cozy simple wrap.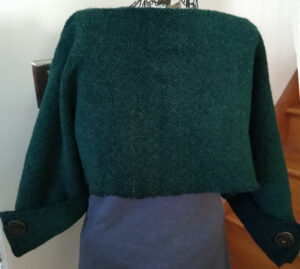 Together, the two pieces will chase any chill away: the wrap goes over the vest to make the third style: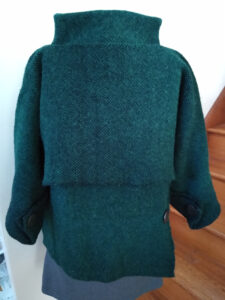 I'm afraid Ms. B doesn't really do it justice — she's a bit unyielding, unlike a human body — but this garment is great fun, and not at all out of reach for the beginning rigid heddle weaver. My selvedges still need a lot of work, but, as a relative novice, I'm considering them to be more "feature" than "bug". Why not enjoy the fruits of early learning?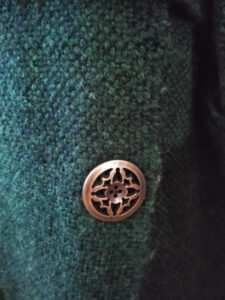 I was fortunate to have just the right buttons on hand. I'm not sure they're Asian, but, then, neither are the yarns!
SAORI is entirely in Japanese, with metric measurements, but don't let that discourage you. The internet will convert the measurements (I write them in the book in pencil), and the designs are so carefully diagrammed that it's completely feasible to work out the various schemes. Could there be a more fun way to travel in Covid Times?!?