Lap Loom and Stand
I recently purchased a lap loom and stand from Harrisville. I wanted a medium-sized lap loom to play around with, and I wanted the stand so that I could comfortably work without having to keep a death grip on the loom.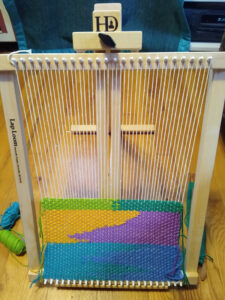 This sort-of worked out.
I have a soft spot in my heart for Harrisville products. I love their gorgeous Highland yarns for weaving, their fast shipping, and, generally, the quality of their goods. True to form, the loom and stand are solidly made and smoothly finished. I was dubious about what look like plastic pegs on the loom, but they work well, are angled to perfection, and I expect will last as long as I do.
But I'm a little unthrilled with the stand. There's a clamp at the top which slides up and down a slot so that various sizes of loom can be used with the stand — but there's no way for the clamp to friction-fit to the loom. Since loom and clamp are both perfectly smooth, the loom slips right off the stand every single time it's moved, or even jostled slightly. Every.Single.Time. This is not good.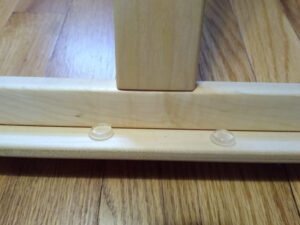 I added vinyl "feet" to the bottom of the clamp, and to the lower edge of the stand. These help, but what's really needed is both my "sticky" solutions and a ledge along the bottom of the stand to prevent the loom from falling forward. With my fix, the stand is usable, but barely. Not unnaturally, I wish it weren't up to me to solve this problem. I like having a stand for this fairly large lap loom; I just wish it were a bit more stable.