Tools for a Larger Rigid Heddle Loom
June 3rd, 2021
Warning
: Undefined variable $comments in
/home/public/wp-content/themes/inove/single.php
on line
18
Leave a comment
Go to comments
These aren't accessories sold by Kromski, the maker of my largest rigid heddle loom, but those I've found helpful when weaving on my wide rigid heddle loom. It turns out that the challenges offered by a super-wide loom are a little different, and the habits I'd developed when using my smaller looms didn't necessarily translate.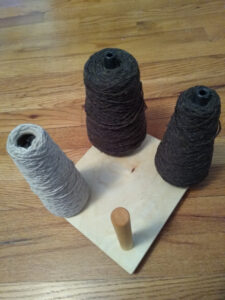 When warping my Cricket or Sampleit looms, I typically used a standard spool holder, or, occasionally, a deep metal mixing bowl. For smaller, quicker warps these solutions were not ideal, but worked adequately.
Though I balked at the price, I bought Harrisville's Cone Holder to use with my Kromski, and I'm very happy with it. It's strong and sturdy, and made all the difference in terms of allowing the warping process to go smoothly.
I was a bit dismayed that it arrived unfinished — rather typical of many weaving accessories, it seems, and generally unmentioned in descriptions — but I gave it a nice coating of Williamsville wax, and it was ready for use in a day or so.
Winding a really wide warp itself proved a different sort of challenge, which I solved by buying a set of warping pegs from Fiber Artist Supply, a small company in Cincinnati, Ohio.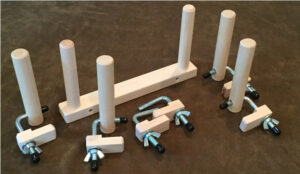 Photo from Fiber Artist Supply Company website.

I can set these pegs all across the warp, which helps immeasurably in keeping the tension and lengths even. It's a lovely bit of kit, too, beautifully and thoughtfully made. I've been very happy with the things I've ordered from Fiber Artist Supply!
Another challenge had to do with storing reeds, shuttles, and pick-up sticks — a not inconsequential issue when they range in length from 30 to 32 inches (76-81 cm). Though it would probably be better to store these flat, that simply isn't an option in my house, so we worked up this solution: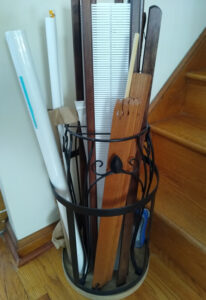 Details are in the post on storage.
Note: I have no affiliation with either Harrisville Designs or Fiber Artist Supply Company except as a customer! Please see my Disclaimer Page for more information regarding policy on this blog.