SampleIt Loom
June 10th, 2021
Warning
: Undefined variable $comments in
/home/public/wp-content/themes/inove/single.php
on line
18
Leave a comment
Go to comments
This is a quick "catch-up" post to note the acquisition of my Ashford SampleIt loom, now quite some time ago.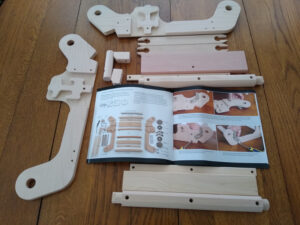 It's a really convenient little loom for testing new types of weaving, experimenting with different yarns, and so on, when warping a wider loom isn't ideal. Assembly was no problem at all, and the instructions were very clear.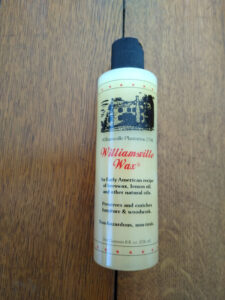 I finished this loom with Williamsville Wax, a beeswax-based preparation. I've been very happy with it, and it's not nearly as agonizing to use as Tung Oil.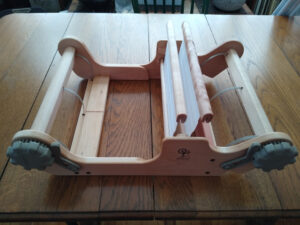 Pros for this cute little loom are its portability, its built-in double heddle blocks (!), and its apparent sturdiness. It's really easy to warp and cart all around! It's also the one loom which may not tempt you to buy a stand, since it's quite easy to handle on its own.
Cons potentially include the knobs, which may be difficult for those with hand issues to turn — I strongly prefer the "peg" style on my Cricket and Kromski — but the knobs may not be as much of an issue when projects are smaller, as they generally would be with the SampleIt.
Also, a big "con" for me are those horrible plastic straps for the warp stick ties. I really dislike the inflexibility, and, worse, don't believe for one minute that these will stand the test of time. Why use plastic when you can use cord? And can I complain about the ugly gray color of all the plastic bits? Why not a soft brown, which would at least be pretending to go along with that lovely wood?
In general I'm not wild about all the plastic on this loom — I'd always prefer wood. Weaving is a tactile experience, and natural materials part of the pleasure. Plastic really isn't any kind of pleasure, either to touch or to look at, although your mileage may vary, of course. And plastic is forever in all the wrong ways, where wood eventually decays if left out to do so.