Kromski Harp Forte
June 17th, 2021
Warning
: Undefined variable $comments in
/home/public/wp-content/themes/inove/single.php
on line
18
Leave a comment
Go to comments
I love my Cricket and SampleIt rigid heddle looms, but I wanted to weave wider cloth.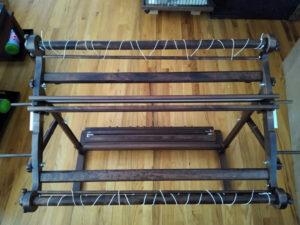 When I saw this 30 inch (76 cm) Kromski Loom set up at Red Stone Glen on a festive day, I couldn't resist. Because the loom is so large, I bought the stand as well. It's proven more than satisfactory, and having the loom up all the time makes using it more enticing.
There are so many things to like about this loom! It's sturdy and stable. The loom folds in half for portability — yes, with your project on board — which makes it ideal for classes. (You know, those things we did in the Before Times.)
It has a built-in warping board built in. (That's hidden beneath the loom; to use it, you flip the loom over and insert dowels.) (I haven't tested it, though there's no reason to believe it wouldn't work well.)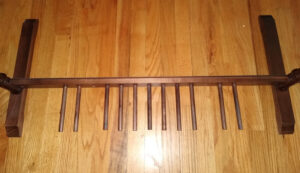 Dowels are supplied for the warping board, which can be stored in holes drilled in the loom stand. If you live in a more orderly — and cat-free — house, unlike me, you could potentially store reeds and shuttles flat on the pegs under the loom. (I use a different system, because cats.)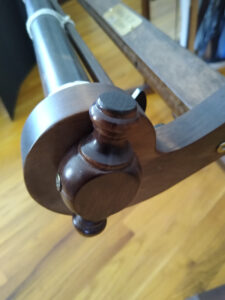 Popping that dowel-like fitting through the cog
makes all the difference in hand comfort.
It also doesn't hurt that Kromski made theirs so attractive!

I love the cogs on the ratchet gear, which are post-style, with easy to hold pegs, like those on my Cricket. I find them much easier to use than round knobs. The ratchet and pawl are metal– a huge plus — and magnetized, so that the locks don't fall down when you're setting things — this is brilliant, and I wish all looms had this feature!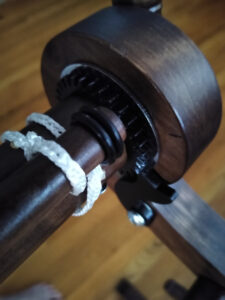 Lock sitting perfectly in place, all by itself, set into the gear.
Side note: See those two small rubber bands
on the warp stick? They are plumbing "o" rings.
Put these babies on the ends of your apron rod (or any dowels)
and nothing will ever slip off the ends ever again.

I did not love the traditional warp strings and the included Warp Helper. Perhaps it just wasn't what I was used to, or perhaps it was because I didn't fully understand how to use them. (I see that Kromski now have a very clear printable .pdf on their website to explain this warping method, which might have helped.)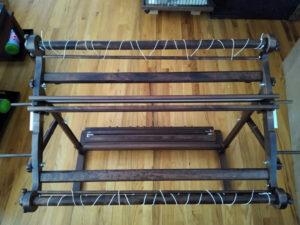 Same photo as first one in this post:
those are the original Kromski warp strings, as supplied.

After gamely giving the system a try, I removed the supplied warp strings and replaced them with short, individual, Texsolv strings, set evenly into the pre-drilled holes across the beam. I prefer the greater tension control these seem to give me, both for warp and weft.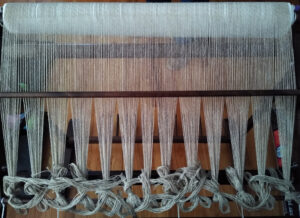 A set of warping sticks is included — cardboard, as is usual, it seems — but I have never found them to be useful. I much prefer paper, and for my littler looms use ordinary office paper or, depending on the project, thin place mats, or the like. These weren't going to work on my mighty Harp Forte!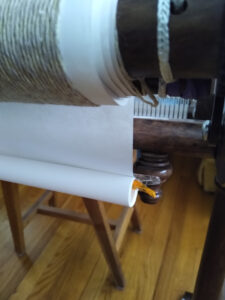 I found that Elmer's banner paper — craft stores may carry it — was perfect for my Kromski's 30″ (76 cm) weaving width. I use quilting clips on each end to contain the roll. They're really essential — I don't generally do short warps on this loom.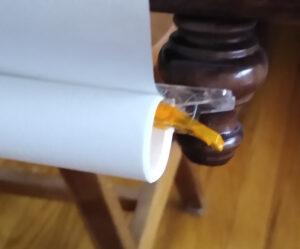 Someone told me that using a 30 inch (76 cm) shuttle was like wielding a sword. I hadn't experienced that when using the Harp Forte in class, where keeping elbows to oneself is kind of crucial, but, much to my surprise and pleasure, swooping in my weaving room with those long shuttles is actually a joy. It feels almost elegant!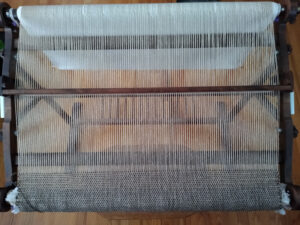 Just as a side note, the included weaving hook is beautiful. Kromski does a really nice job of preserving an old-world sense of the loom, which I happen to adore, and is really evident in this nicely turned handle. I don't mind that there are also a lot of modern improvements, too, though!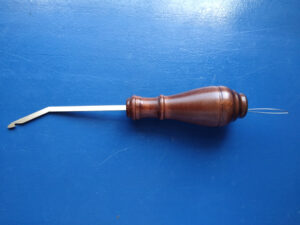 I tend to prefer my Harrisville Threading/Sley Hook, which seems more efficient and is kinder to my hands (your mileage, as ever, may vary), but that's also probably a matter of familiarity. I do love admiring the Kromski one on the shelf, though!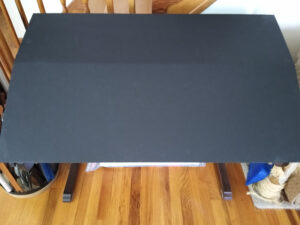 When not in use, my loom is anything but elegant; it lives hidden beneath a foamboard cover. Because cats. (You'd think they'd just sleep on it, but the angles are wrong, and it's just plain unsatisfactory. I know; I've seen the paw prints. Only one set for each cat. Win!)