Couching
No, it's not the fine art of scoffing chocolates on the divan — it's using a cord/yarn/thread to edge or decorate fabric.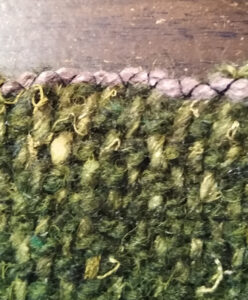 Using a special foot, the cord is set along the edge, and zigzagged in place.
The cording foot has a loop in front and a channel through the back to allow the yarn to pass through unsquished. (Technical sewing term, that!)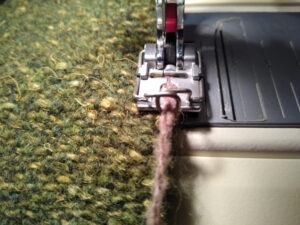 I'm not skilled at this yet, but, in general, the process seems to be pretty forgiving. In fact, I was surprised at how well it worked, even during this initial practice run. I think I might want a much bulkier yarn for the edge once I'm doing this for real, though (And a better color! That natural color is truly meh next to the variegated greens.)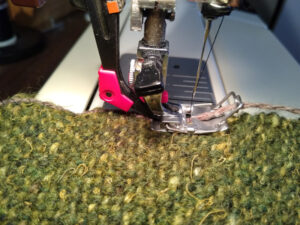 The walking foot arm is black and red,
not pink, actually. I may be looking
into some kind of camera after all.
This side view hints at the only difficulty I had: there's a slight rippling in the edge, which I'll have to figure out. I'm not sure if it's inevitable, something gentle dampening and blocking could resolve, or if it's a tension issue. I'll have to experiment a little bit and see if I can work it out.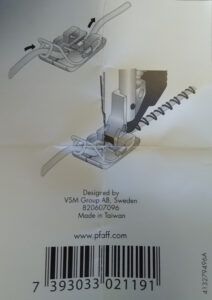 My machine is a vintage Pfaff — my favorite machine ever, my sewing soulmate, even! — and this is the foot I'm using. I've used it previously to make freehand decorative cording on denim, which was a lot of fun, but I'd never tried this application. I'm hoping to use this edging on a future handwoven project, and am trying to get all the ducks in a row in advance.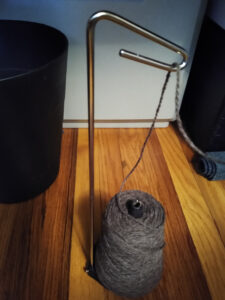 I couldn't remember what I'd done to feed the yarn in the previous trial — and, in any case, I used a lot less yarn then. This time I just put a cone stand on the floor near my left leg, and that worked perfectly. (Note to anyone looking for these stands these days: search for the ones with the metal bases — they're far more stable than the newer, plastic-based, models.)