A Word About Sourcing
July 15th, 2021
Warning
: Undefined variable $comments in
/home/public/wp-content/themes/inove/single.php
on line
18
Leave a comment
Go to comments
Part Two of Weaving Paper towels isn't ready yet, so here's a little something for intermission.
When I first started to weave, I wanted yarns to play with that wouldn't destroy my budget, and that I could buy in sufficient quantity that I wouldn't worry about using them up wastefully as I learned. Now I'm a lot more likely to choose a project, and then look for the yarn, but as a new rigid heddle weaver it was more useful to have several kinds/colors/types of yarns around. I felt freer to experiment, and could focus more on the weaving, instead of the end project.
These are the kinds and sources of fibers I began with:
Cotton rug yarn is an easy and good choice, and, on cones or tubes, is also an inexpensive choice. But it's a lot less forgiving than wool or blends, and it's important to get the tension right. (Well, it's always important to get the tension right — but cotton won't help you out in a pinch the way a wool or wool blend can!) Buying it on the cone, or by the tube, is usually the most economical choice; if you don't have a weaving studio nearby, look online.
I made a LOT of towels in 8/4 carpet warp, and have been amazed at how well they have held their vibrant colors, even in constant use. Weaving towels is a great way to learn!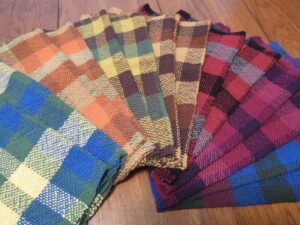 You won't find discounts at WEBS or at one of my favorites, Red Stone Glen's online store, but you will find a huge assortment of fibers and colors. (And Red Stone Glen will be very helpful if you have questions!)
Craft and fabric stores, like the necessary but often frustrating JoAnn stores, can be good sources for inexpensive fibers. Crochet weight fibers are inexpensive, and might prove fiddly for beginner weavers, but they are about as inexpensive as fiber gets. If you're choosing yarns, be sure to check for warp strength by snapping a section — if the yarn pulls apart, it won't be sturdy enough for warping. Look for discount bins for the best buys.
This bag was one of my first projects. woven from crochet yarns purchased at a JoAnn store.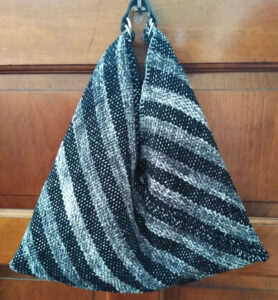 Mr. W and I had great experiences, in the Before Times, checking in at discount shops wherever we found ourselves, and we bought up large quantities of remaindered yarn skeins at very low cost! I got some very nice, and some very nice quality, yarns this way. The now-defunct Tuesday Morning was a chain that sold a huge variety of stuff, but always had a (sometimes practically hidden) rack of discontinued yarns. Other closeout lot stores may, too.
Yarn stores, even higher-priced once, often have discount areas, and so may craft stores. Check them out and play with yarns you might not otherwise choose.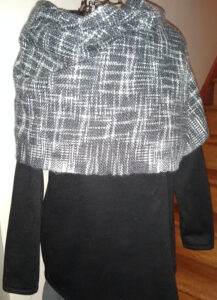 The wrap on this top was woven from a really lovely variegated, and really inexpensive, yarn straight from an outlet bin at a craft store.
I was introduced to Harrisville Highland cones in several classes I attended. I love these yarns, and cones are generally a less-expensive way to stock up than are skeins. I absolutely love this yarn for warping, and like it especially as a warp for more expensive yarns, or more delicate ones, that might not warp well themselves.
And, possibly the best suggestion of all, at least for Future Times, once the Covid waves have receded, is to join a guild! Not only will you find like-minded hobbyists, but your guild, like mine, might often offer a table of members' no-longer-wanted fibers. For a modest donation to the guild, guild members snap up these offerings. Other guilds likely do the same.
As ever, your mileage may vary, but keep your eyes open and look for opportunities to gather enough stash to freely experiment, especially while you are a beginning learner.
I don't have any kind of relationship with any organization mentioned here, except as a customer, paying my own way. See my Disclaimer page for details.