Weaving Paper Towels — Part Two
August 12th, 2021
Warning
: Undefined variable $comments in
/home/public/wp-content/themes/inove/single.php
on line
18
Leave a comment
Go to comments
With all the prep finished for the paper towel project described in Part One, I began to weave.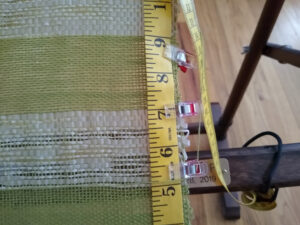 The tape measure is looped, and attached, to the loom,
at the right to keep it from pulling at the selvedge,
and the clips are attached about a quarter inch (.6 cm) in,
for the same reason.
As I was reluctant to cut the Shosenshi paper fibre, I hadn't done any sample weaving. This was less disastrous than it might otherwise have been, since making towels in plain weave isn't necessarily precision work.
I had worked out a weaving scheme, which involved twelve rows of 8/2 cotton thread in Lime for the hems, then broader bands of alternating Lime (cotton) and  the white Shosenshi (made from linen paper). I wove the first few sections, and then checked them with a tape to verify that I'd end up with the size towels I wanted.
Then I simply counted rows. Each 2 inch (5 cm) wide weft band of lime was 32 rows; each band of white was 16, with a center swathe of 96 rows of white. I was pretty nervous about this; when Tom Kinsley made his paper towels, he interspersed regular rows of cotton. Would my broad expanse of Shosenshi prove too weak to allow the material to function as a towel? There was only one way to find out. I had high hopes; in Japan, fabric woven from paper, called Shifu, has been around for aeons, practically. How different could this be?
The Shosenshi is fun to weave with; it crackles a bit, just like paper, and it twists like crazy. I suppose one could flatten each weft row out — removing the twists and turns to make a much more even weave — but I loved the randomness of letting it be, and decided to simply see how it all turned out. Why not? This project was a true experiment, and strictly for fun!