Paper Towel Update
August 20th, 2021
Warning
: Undefined variable $comments in
/home/public/wp-content/themes/inove/single.php
on line
18
Leave a comment
Go to comments
So I finished weaving the paper towels, but I'm unsatisfied. I don't think they're going to work in any way as paper towels.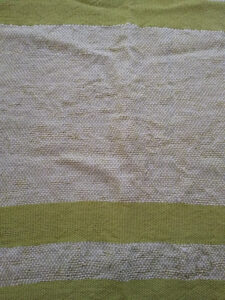 Untreated, just off the loom.
This is partly because I chose to make the cotton swathes broad enough that the textures — the paper Shosenshi and the cotton fiber — are too disparate to work well together when used in this way; they absorb differently, and they're a little difficult to handle.
Interestingly, the Shoshenshi, woven, is a lot stiffer than I expected it to be. I wonder if Tom Knisely got a softer, more pliable, result from intermingling regularly-spaced stripes?
So I'm quite undecided about what to do with this fabric, though I have a few ideas. They're still percolating, though, and need a little more time to grow to fruition. I'm not about to call this a failure, though — the weaving itself was interesting enough to justify the project!