Swiftly, Swiftly
August 26th, 2021
Warning
: Undefined variable $comments in
/home/public/wp-content/themes/inove/single.php
on line
18
Leave a comment
Go to comments
Turning skeins of yarn into something manageable requires something other than willing hands. A yarn swift is the answer, but many are huge, expensive, and bulky to store. This one isn't!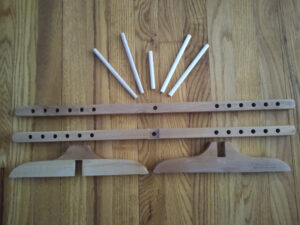 The Woolery says this swift is Amish-designed; it's branded "ChiaoGoo". You can see that it breaks down very compactly, which makes it perfect for weavers like me who have infrequent need of a swift.
Assembly takes seconds, and this swift handles skeins with ease, though it's simplicity incarnate! The peg holes are marked for length, and adjustment is as straightforward as moving a peg.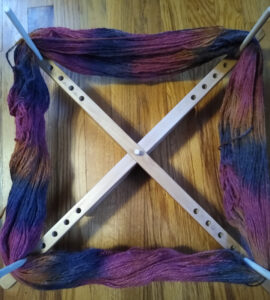 However, it's advisable to pay a bit of attention: If, for instance, you're watching Scandinavian Noir while swifting, and your attention to fiber lags, you might find that you've allowed some yarn to wrap around the center peg. (Cough, cough.) That's easily remedied by pulling the peg up, putting the yarn back where it belongs, and proceeding onward.
I've been very happy with this swift, and really delighted that it stores away in my small reed basket. (See "Tips for Storage" and scroll down to "Plate Rack for Shuttle Storage". You can see it on the left-hand side, poking up a bit.)